Case Study: Sugar Sammy Website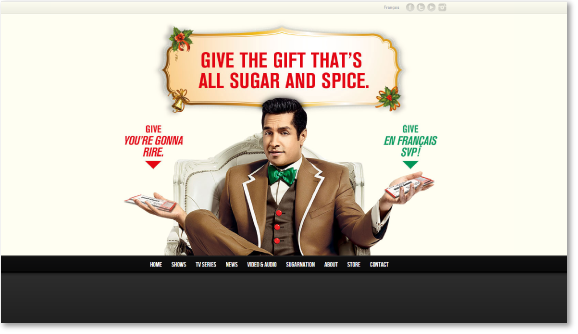 SUGAR SAMMY - CANADA'S #1 COMEDIAN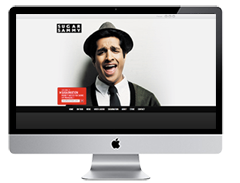 Features:
MadeSimple CMS
Press Manager
Google Calendar/mySQL integration
Google Maps integration
Youtube integration
MadeSimple Media Gallery
Show Calendar
Social Media Integration
Newsletter aggregation
Vij'n VPS Hosting
We've been working with Sugar Sammy for over 8 years. In that time, we have watched Sugar Sammy go from a one-man up and coming comedian to Canada's hottest young comedian. We've grown right alongside him become a brand onto himself with a management team and revenues into the millions. Over the years we have produced a few sites, starting with a Flash site in the mid 00s, then a brief stint with Joomla, and now, an HTML site.
In its latest iteration, the Sugar Sammy site is bilingual, sleek, clean, fast and packed with features. As the months tick by we constantly update the site with new features. What began as a static website has quickly grown to incorporate a number of dynamic sections. We have integrated YouTube videos and playlists. We have also incorporated our own MadeSimple Press Clips & Press Releases management systems which allow his team to quickly and easily add new press mentions, articles, press releases, radio show interviews, etc., all with images and related information.
His On Tour section is dynamically updated through a Google Calendar (including Google Maps locations for every show) sync feature which we created to allow his team to continue using the tools they were used to, while ensuring that the website is constantly populated with his latest events and shows. His personal photos and videos are displayed using our MadeSimple Media Gallery software and of course the basics are included, such as Facebook feed and Twitter feed integrations, newsletter campaigns, and SEO. All these pieces were customised to look as seamless, and to work as efficiently as possible. Lastly, all of his static content and images are managed using our MadeSimple CMS.
Conclusion
We continue to be proud of Sugar Sammy's rise to the top of his industry and are still excited at being a part of it, providing all the tech support, and web services they require to keep the machine going and to not only enable their team to do their work, but to simplify the process for them.
A quick look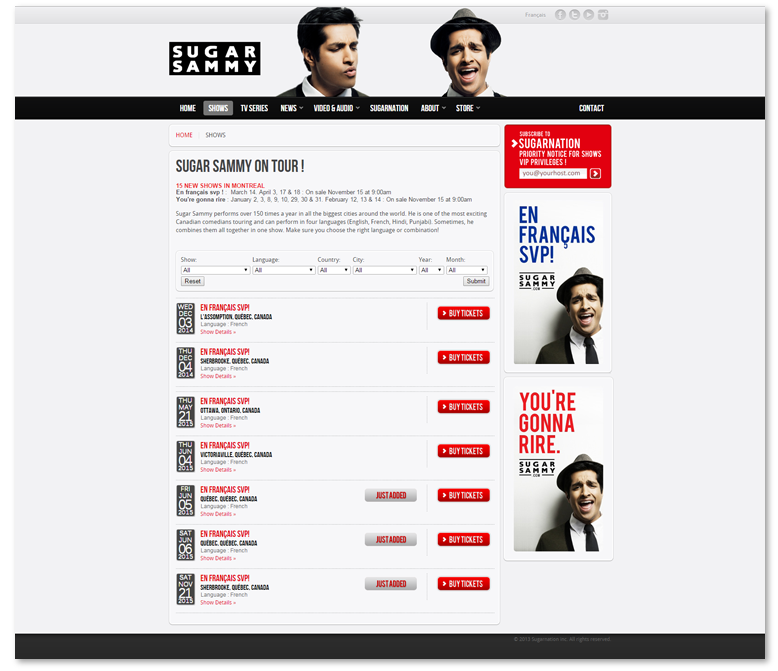 CUSTOM BUILT TICKET PORTAL
Sugar Sammy wanted to build a section that would encourage his fans to easily navigate, search and book any of his upcoming shows as well as view which shows he had done in the past. We provided a comprehensive solution that did exactly that, and linked each show dynamically to the relevant ticketmaster.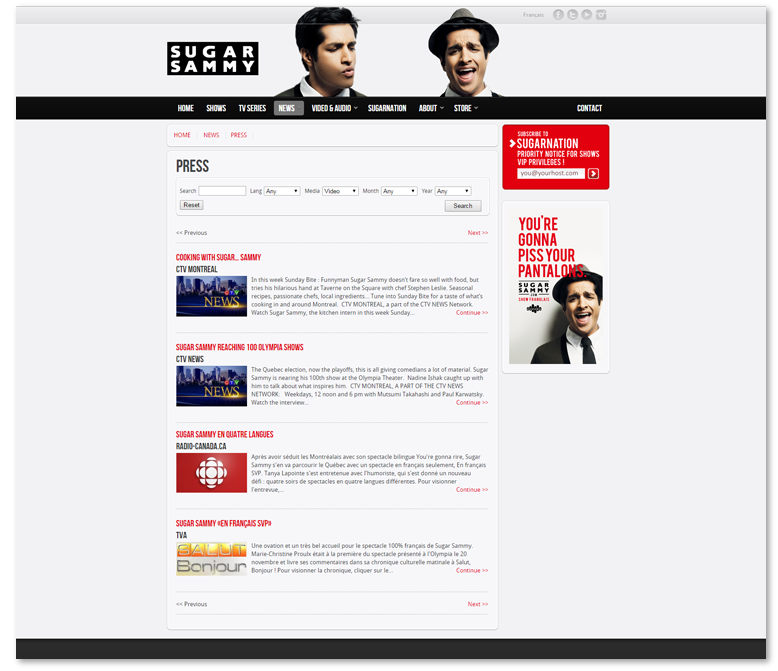 CUSTOM BUILT NEWS ARCHIVE
Given his fame and how regularly he ends up in the news, Sugar Sammy wanted an archive that was independent of the news channels where he could post and manage all his press clips from all the news agencies and magazines. We built one from scratch; searchable and easily managed. They never looked back.