Case Study: etravel Website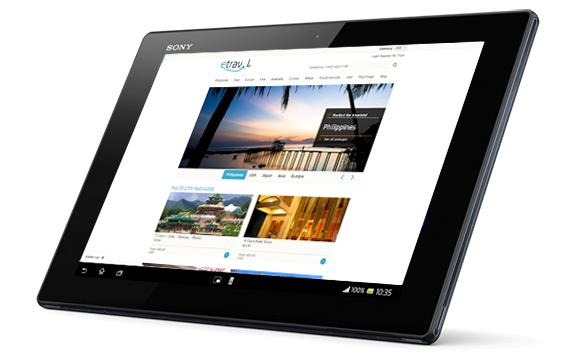 ETRAVEL - PHILIPPINES BASED TRAVEL BROKER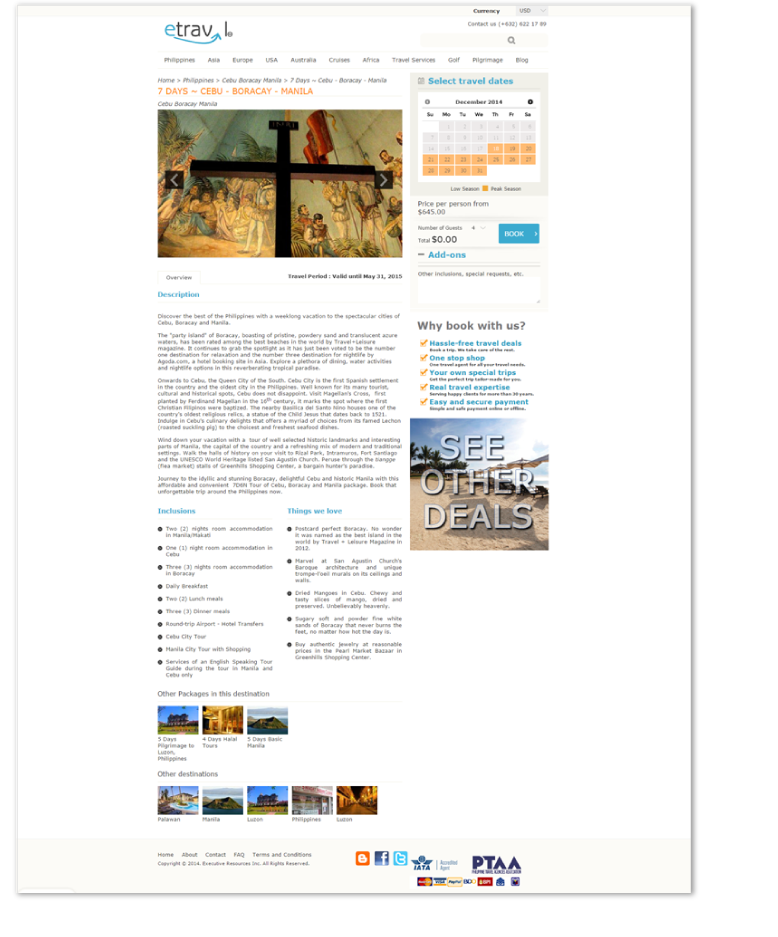 Features:
Drupal 7 Platform
WordPress Blog
eCommerce with Payment Processing
Booking Calendar integration
Live Chat feature
User Accounts
Sitewide Search
SEO
Admin Area with:

Automated Emails & Invoices
Sales & Advanced Reports


Etravel was a fun project to work on. We were approached with a name and a project specification sheet for the website, and we took it from there. Our client knew what they wanted in terms of general feel, they knew who they were targetting, and they knew what was important to their business process. The rest, was on us.
Naturally, the first step was to create a brand. We needed to provide the etravel team with something simple, fresh, light but also playful and professional. It needed to convey movement and casualness, while maintaining an air of thoughful professionalism and competence. So, we played with the "e" in travel and made it travel from the beginning of the word towards the end with a simple arrow.
Now, we had the corporate identity, we needed to apply that to a site that reflected the image. Something light, open, bright. It needed to say "we know what you need, and as you can see, we know how to get it to you". We create a simple navigation, made sure the interface was completely uncluttered, integrated searching for easy access where needed, and used a card like presentation for all the packages. Then we just needed to implement all the functionality the etravel team required. We got them setup on a Drupal 7 platform, integrated payment processing, added in an on-page booking calendar for easy booking, incorporated a live chat feature, advanced reports for the admin team, and wrapped it all up with some SEO. Easy as pie.
Conclusion
Some projects just click. Some are just easy, fun, and the results are nothing short of awesome. When our clients write us every once in a while, months after the site launch to tell us that they still get compliments on not only how the site looks, but works, we know we've done our job. We can take pride in that.
Sample views